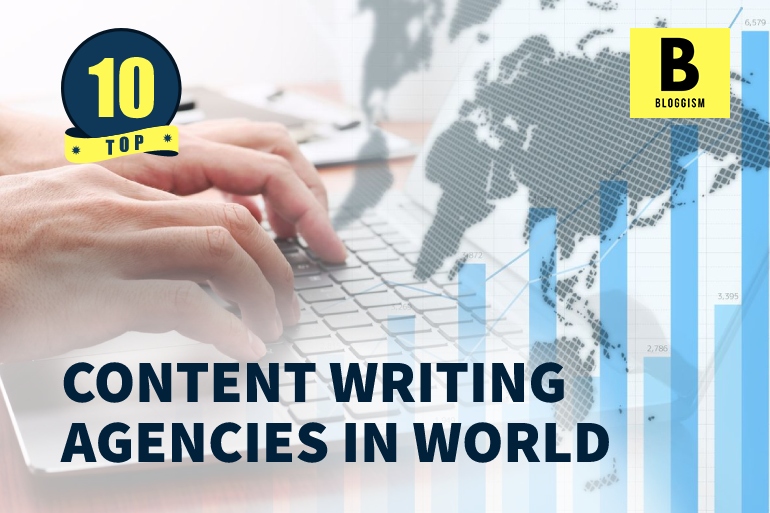 Content Writing Services are the backbone of digital marketing strategy. It is imperative to hire a content writing agency that can understand your business objectives and deliver high-quality content.
This industry is rapidly growing, and with the emergence of new technologies, it will continue to evolve. Do you know the reason for this evolution? Let us explain to you. Quality content leads to good SEO, which leads to more social traction and brand value. Hence it becomes very important that your business puts in the best content to the world. And to achieve that, Content Writing agencies are here to help!
The agencies listed below are some of the best agencies in terms of delivering high-quality content services:
Brafton:
Brafton is a content marketing and technology agency and has been the top content writing agency globally for more than 30 years now.
Their diverse team of marketers, content marketing consultants, creative writers, animators, videographers, and graphic designers works with a broad array of clients. They design and execute agile content marketing that will satisfy your customers and push them to buy your products/services. The company's motto is built on three words – Strategy, Consultancy, and Distribution.
The key services Brafton provides are Blog Content Creation, eBooks & White Papers, Infographics & Asset Design, Video Production, case study & newsletter, web & email copies. 
Brafton's services are designed to help companies succeed with customer engagement in the new digital era.
Express Writers:
With 10+  years of experience in this field, Express Writers are renowned for their custom-made content solutions that have helped many organizations achieve remarkable success.
Their team of content creators has expanded to about 90 people, each with their own unique skillset. They have completed more than 40,000 content projects for clients worldwide.
Express Writers offer a wide variety of topics, including blogs, social media posts, ad designs, and white papers. They are especially good at making legal, financial, medical, and technical content.
They aim to build your online presence through great content. Whether you are a marketer, brand, or agency, they have got you covered.
Taletel:
Taletel is one of the top content writing agencies in the world. They are a team of 20+ talented writers with the skills to take your company to the next level.
Taletel has been in this field for over 10 years now. They have helped many companies create persuasive content, web copy, white papers, Social Media Ads, Product Reviews & Comparisons, Creative writing, Email creation, or any other form of content that you can think of. They are also skilled in SEO copywriting which is vital to keep up with changing algorithms.
The motto is to let you tell your story your way. Why choose Taletel? Because you get customized content at an affordable cost before the deadline.
Choose Taletel if you wish to:
Get customized content as per your needs

Save time, labor, and money

Master the changing trends and stay up-to-date

Get 100% plagiarism-free content

On-time delivery of projects
Estorytellers:
Estorytellers has been on the list of Top 10 Content Writing Agencies in the World by the Content Marketing Institute for three consecutive years now.
Estorytellers is an innovative digital content agency that specializes in writing, design, and development. It helps companies to develop their content piece by providing quality content for SOP, blogs, copywriting, creative writing, translation service, social media writing, technical writing, and resume building. 
The strongest belief of Estorytellers is "Originality". Estorytellers know all about plagiarism and how to avoid it. Estorytellers will help you create a story specific to your company and provide original content. They believe their work will boost your sales lead and revenue generation with a large team of human writers!
Write Right:
With Quality, Deadline, and Necessity as pillars in mind, Bhavik Sarkhedi formed this Content Writing Agency in Ahmedabad. It is one of India's top 3 Content Writing services by Mindsnoop, IIMSkills, Kandra Digital, and many more.
Write Right assists clients with technical and non-technical writing, advertising and marketing, and SOP writing. Creative writing, ghostwriting, blog writing, social media writing, website writing, email writing, resume writing, and photography are among the services offered by the premier firm.
Write Right has become a top-rated content writing agency in a short span of time because of its 100% client satisfaction rate.
The company boasts a team of over 50 writers today. Some of their proud clients are TechDefence, Yourstory, Huffpost, Mundsnoop, IIMSkills, and Kand.
3 things that matter the most for Write Right:
Quality: Content writing is a vital part of a strong digital marketing campaign. Focusing on just a few attention-grabbing words may seem like the best option but quality matters!

Deadline: They adhere to strict deadlines when hired

Necessity: They believe that engagement is a sign of great content, and hence all their content is based on driving engagement. 
GoDot Media:
With 10,000+ clients in multiple countries, GoDot Media has earned a name for itself as one of the world's leading Content Writing Agencies.
The company offers a wide range of services to its clients. They help new and established companies with content marketing and social media campaigns. They also offer SEO copywriting blogs, Content marketing, e-book, product description, and social media services.
When you work with GoDot Media, you get editorial and project management support that will result in a smooth and high-quality content writing experience.
Bloggism:
Stay ahead of the competition with updated, ever-changing Search Engine Optimization (SEO) and digital marketing landscape. But how? Why worry when Bloggism is here.
Bloggism has been around for a while and has become one of the leading companies in content writing. They work to improve services continuously, and they claim to handle any project, no matter how technical or complicated it may be. Their writers are able to create articles that adhere to your company's style rules. This is one skill they possess as an expert in writing style and tone management for content for your industry.
Bloggism assures unique, SEO-based, well-researched content on time. They offer Blog Writing, Website content, Email writing, Case study writing, newsletters, and mainly Business Proposal writing. So you can trust them for reliability and uniqueness.
Justwords:
Born in 2010, Justwords specializes not only in writing real good content but also in making sure it is read and heard by the target audience. Their aim is to build content that generates leads and traffic and increases the ROI. 
Their services include content writing, content strategy, marketing, SEO optimization, digital marketing, social media marketing, preparing visuals – video, infographics, e-book etc. These are just a few services, there is a lot more that you can find about them on their website. 
Justwords is just perfect if you are looking for:
Building digital growth engines powered by content marketing and SEO

Successful digital campaigns that lead to online brand visibility, connected audiences, organic traffic and ROI.

Content and Marketing Consultancy
Content Whale:
Why spend a huge amount on in-house content writers when your business can get covered with Content Whale? Content Whale provides 42 types of content to businesses around the world.
At Content Whale, they offer great digital content at affordable prices. Their services can be quite effective if you need help with your online presence.
Their range of services includes- Articles & blogs, website content, SOP, branding content, technical writing, academic writing service. 
Choosing Content Whale can be a good option if you are looking for:
Quicker Completion of tasks

Cost-effective services

Speed and Quality

On-time delivery
Kalam Kagaz:
Kalam Kagaz, founded by Bhavik Sarkhedi in Ahmedabad, is one of India's leading content consultants, helping students, fresh graduates, and professionals with their résumé & cover letter writing. Whether you are new or experienced, they can help you in such a way that your application gets noticed.
The company is a specialized resume-writing service with experienced & expert writers from across India. Their major services include: Sop Writing, Resume Writing, Linkedin Profile, Cover Letter Writing, Lor Writing. They are a 360-degree resume writing service company in today's market.
So above were the top 10 Content Writing Agencies that can scale up your business. Make sure you hire a content writing agency for your business because it can:
Help you Save Time:
As a growing company, there's a decent possibility you'll have some personnel that know how to write. It may seem like a good idea to ask them to write some material for your website, and it is if they know what they're doing, but this isn't always the case. When you assign a complex writing task, such as content writing, to an inexperienced writer, things might become a little messy. The more modifications a writer has to make, the longer they spend on a piece of content, resulting in wasted time. Professional content writers understand what their clients require and don't waste time offering it.
Make your website look impressive: 
You probably must have heard the phrase "don't judge a book by its cover," most people can't help but do so while staring at a lousy book cover or, in this case, a website. When dealing with a firm that has a well-designed website, potential customers feel more at ease because they look to be more knowledgeable and committed. Viewers are more likely to take websites with a lot of online and blog content seriously. Without new material, Google may push your website to the bottom of the search results, leaving it with less opportunities for potential clients to find it.
Help market your company online:
Content writing services are mostly used to enhance the amount of visits to a website. This is because many firms will provide public online services or just want to increase their brand awareness. Most of the time, if you need content for your business, it's because you're seeking to increase the number of daily visitors your site receives. Content writers understand what types of articles and blogs will pique readers' interest, which is why their services are so important.
There are many content writing services in the world. But how do you know if they are worth your money or not? There are a few factors that one must consider before hiring any content writing service.
First of all, the quality of their work. It is really important to ensure that they have a good grasp of grammar and language structure. Secondly, the quality of their customer service should be good enough to answer any queries you may have about their services. Thirdly, whether or not they will deliver on time and budget with a high-quality product is also something worth considering when hiring a content writing service provider. 
Hope this list helps you. Make the best decision based on your content requirement.